How is Viatris addressing climate change?
Climate change is impacting both environmental and human health, and as a healthcare company with a global presence, we must do our part to address climate change head-on. (See our Global Climate Change Policy).
We have set near-term companywide emission reduction targets in line with the latest climate science. These near-term targets have been validated and approved by Science Based Target Initiative (SBTi). Our emission reduction targets are as follows:
Viatris commits to reduce absolute scope 1 and 2 GHG emissions 42% by 2030 from a 2020 base year*. Viatris also commits to reduce absolute scope 3 GHG emissions covering purchased goods and services, capital goods, fuel and energy related activities, and upstream transportation and distribution by 25% within the same timeframe.
The SBTi classified Viatris' scope 1 and 2 target ambition and has determined that it is in line with the 1.5°C trajectory.
Moving forward, key actions and strategies for making progress toward our SBTi climate targets will include:
Increasing renewable energy usage
Implementing energy-efficiency projects
Preventing refrigerant leaks and transitioning to greener refrigerants
Using alternative fuels and technologies
Leveraging infrastructure upgrades and utility replacement projects
We are implementing energy-efficiency and emissions-reduction projects and are tracking GHG emissions monthly, evaluating GHG reductions annually and re-evaluating short- and long-term emission reduction strategies as needed to achieve our targets.
For examples across the Viatris network, please see our 2022 Sustainability Report.
In addition to the above-noted climate targets, we have also launched water and waste goals.
Viatris concluded its climate scenario analysis in 2022 to re-assess and better understand our exposure to physical and economic risk drivers based on different climate change scenarios. Because of our global operational presence and supply chain, understanding how exposure to climate-related events looks across geographies and to what extent locations are vulnerable to these impacts helps us understand our associated risks and opportunities. Using this information will help inform future business strategies.
Our areas of focus have been protecting and enabling stable access to water, helping protect public water resources and maintaining operations during extreme weather events. The climate scenario analysis confirmed the relevance of these activities.
In addition to own operations, we are also working to reduce carbon emissions across our supply chain. We work across all three of our freight transportation modes - road, ocean and air - to that end. Transport efficiency is a primary objective. We focus on full truck loads and double stacking of pallets where possible. Full truck loads are considered the most efficient mode of transit. The sourcing of transportation providers considers sustainability as a factor. Our key logistics suppliers have sustainability programs and are active in reducing GHG emissions. To enable the shift to ocean and road freight - which is less GHG intensive than air - we have been building in more time for transportation into our processes, which hinges on good demand data and forecast planning. We have a rapid response system and have established a standard operating procedure to make ocean freight our standard mode. In 2022, road and ocean represented 89% of all transport. As timely access to medicine is the priority, there are exceptions when speed is of the essence. In addition to disclosure in our
2022 Sustainability report
, we also report to the CDP climate and water programs. Our responses are available on CDP's public responses page and provide additional information.
How does Viatris approach water and wastewater management?
Our target:
To perform water risk assessments for all 15 Viatris site locations in high or extremely high water stress areas as identified by the World Resource Institute and to identify appropriate water conservation initiatives by 2025.
Our Progress: In 2022, we performed five water risk assessments—four in our India facilities and one in Türkiye. The remaining locations are on target for completion in 2023 and 2024, keeping us on track to meet our overall goal by 2025.
Access to clean, readily available water is critical to our mission. That said, we recognize that water is a scarce resource in some of the communities where we live and work. That is why we are committed to working proactively to protect water resources and continue to improve our water management practices and systems.
We have formalized our commitment to water stewardship as a signatory of the UN Global Compact (UNGC) and the UNGC CEO Water Mandate — a platform for business leaders to address global water challenges in collaboration with the UN, governments, civil society organizations and other stakeholders.
We perform water risk assessments for locations in high or extremely high water stress areas as identified by the World Resource Institute. Water risk assessments are primary components of our water stewardship strategy and are a part of our commitment to the UNGC CEO Water Mandate.
From the water risk assessments, sites will develop water conservation plans that address opportunities and risks, with vertical leaders owning the goals. All operations sites are periodically audited to ensure compliance with local regulatory and internal standards.
We strive to maintain all applicable permits and authorizations for wastewater discharge issued by governing authorities and comply with all local discharge limits. Per our technical requirements, sites must minimize the amount of pharmaceutical ingredients released to the environment and must conduct manufacturing effluent risk assessments to confirm that management practices adequately reduce risk.
The production requirements of our operations, coupled with local regulations and infrastructure, guide the type of water and wastewater management techniques applied. We have controls, technologies and containment strategies to minimize the amount of potential pharmaceutical ingredients that could enter wastewater. We treat all wastewater streams to ensure compliance with local regulatory and internal standards. In India, multiple sites apply zero liquid discharge (ZLD) technology, which eliminates wastewater discharge. To help ensure our ZLD-equipped plants operate effectively, we conduct independent, third-party assessments and will continue to conduct additional evaluations.
More information is presented in Viatris' 2022 Sustainability Report.
How does Viatris work to limit the impact of pharmaceuticals in the environment?
The primary pathways for pharmaceuticals entering the environment from human use are by normal patient excretion, improper disposal of medicine by consumers, and the use of pharmaceuticals in agriculture and livestock. A significantly smaller contribution stems from emissions resulting from the pharmaceutical manufacturing process.
While gaps remain in the scientific link between pharmaceuticals in the environment (PiE) and human health risks, we are committed to reducing pharmaceuticals discharged from our manufacturing operations. Our approach to addressing and minimizing the potential impact of PiE from our own manufacturing is based on a wide range of activities and governance:
Risk and Impact Evaluation
Risk Reduction and Control
Engagement and Policy
Through our Global EHS Management System, we have implemented a new program and technical requirement regarding pharmaceuticals in the environment. Viatris conducts qualitative manufacturing effluent risk assessments to determine the appropriate level of control measures needed for manufacturing to protect the environment from releases of pharmaceutical ingredients. Meanwhile, we are expanding our quantitative manufacturing effluent risk assessments to other product classifications beyond previously completed antibiotic assessments. Viatris has established a prioritization scheme to help drive the progression of these assessments from a high- to low-risk basis.
We are active participants in several trade association working groups with a focus on responsible effluent management and appropriate disposal of unused medicine. We also collaborated in the launch of the first environmental manufacturing standard for antibiotics. More information in our work to address AMR is presented here and more details on our water and wastewater management is presented here.
Key Principles in Responsible Effluent Management
Compliance with applicable company standards and regulatory requirements
Implementation of defined sound wastewater management programs that are based on risk management and good engineering principles
Utilizing published/industry API-specific discharge targets based on safe concentrations in the receiving surface waters (PNECs)
Conducting manufacturing effluent risk assessments of wastewater containing API at our manufacturing locations; if a risk is identified, implement appropriate additional controls to mitigate the risk to an acceptable level
How does Viatris work to reduce its environmental impact?
Recognizing that environmental and human health are interconnected, Viatris has a holistic approach to and integrated management of environmental, health and safety (EHS). Responsible environmental management and promoting safe and sustainable operations are priorities for the company. We work systematically and continuously to identify ways to protect the environment and minimize our impact through a comprehensive approach that focuses on managing our water, air emissions, waste and energy.
Our Global EHS Policies — the Global Environmental Stewardship Policy, Global Climate Change Policy, Global Water Policy — and Global Health & Safety Policy are based on our governing EHS Principles. The policies apply to all of Viatris' global operations, from senior management down through every level of the organization. The company's Technical Requirements establish global minimum operating requirements for a variety of environmental and safety activities. Our global programs, guidelines and technical standards cover topics including safety, waste management, wastewater management and discharge, incident management, chemical management, facility design, ozone-depleting substances and refrigerants, air emissions, pharmaceuticals in the environment, and environmental hazard assessments of products.
The EHS Management System (HSE) is based on a four-step cycle for continuous improvement: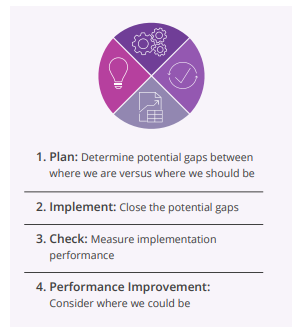 Risk management
At Viatris, we evaluate EHS risks for our products, processes and facilities. Per company policies, the Global EHS Management System and technical requirements, each site must utilize EHS risk assessments using a formal process to analyze EHS risks and maintain continuous improvement plans.
We assess risks to our network on an ongoing basis and take measures to help ensure we can maintain a safe and stable supply of medicines. As part of this, we evaluate regulatory and physical risks and opportunities associated with the effects of climate change across our operations.
Is Viatris' environmental health and safety management systems externally certified?
Viatris applies a best-in-class model for environmental health and safety (EHS) management. Our Global EHS Management System covers all of Viatris' operations and includes 16 global programs, 52 technical requirements and nine guidelines. Viatris applies a principled approach that each site seeks external certification on top of adherence to companywide management systems and standards. We have received ISO Environmental Management certifications at many of our sites, reflecting the strength of Viatris' own EHS management system and standards. For example, India hosts 13 manufacturing sites and 1 R&D facility that hold ISO 14001:2015 Environment Management System certifications. It also has 6 API manufacturing sites that we recertified to ISO 50001:2018 Energy Management System. Also, 13 of Viatris' India manufacturing sites were recertified to ISO 45001:2018 Occupational Health & Safety Management System.
More details are provided in Viatris 2022 Sustainability report
What is Viatris doing to address antimicrobial resistance (AMR)?
As one of the world's largest suppliers of antimicrobials, including antibiotics and antiretrovirals, Viatris is uniquely committed to addressing antimicrobial resistance (AMR). As a founding member of the AMR Industry Alliance (AMRIA), Viatris has long believed in the power of cross-sectoral partnership to achieve greater results, together.
AMR is a complex problem and in many ways highlights broader issues impacting medicines and healthcare access more broadly. For example, many medicines are not taken appropriately, and therapeutic adherence is an issue for most people. This is a public health challenge because it represents an inefficient use of healthcare resources and won't result in intended health outcomes for individuals. The added complexity to this common challenge with antimicrobials is that lack of adherence and inappropriate use can result in the development of resistance by infectious pathogens to existing medicines. These resistant strains can quickly spread, multiplying the problem, potentially to pandemic scale.
Access to a wide array of high-quality antimicrobials and timely treatment are key in mitigating the rise of AMR. Viatris has over 90 antimicrobials in our global portfolio, including many antibiotics that can be valuable in treating resistant bacteria. We recently launched a treatment for multi-drug resistant tuberculosis, only the third new anti-TB drug approved in the past half-century.
In 2022, Viatris through the AMRIA contributed to work identifying root causes of and potential solutions for constraints in the off-patent antibiotic supply chain, participated in judging the second annual Stewardship Prize award for local programs demonstrating unique action to advance responsible use of antibiotics and collaborated in the launch of the first environmental manufacturing standard for antibiotics.
Fighting AMR via Responsible Manufacturing
As a founding member of the AMR Industry Alliance (AMRIA), we are committed to partnering across the industry to collectively advance initiatives addressing AMR. These efforts have led to progress in advancing science-based approaches to help manage the impact of antimicrobial manufacturing. We have adopted the AMRIA Common Antibiotic Manufacturing Standard for our own operations and external supply chain. Viatris participated in the development of the Antibiotic Manufacturing Framework, which was then transitioned to a Standard in 2022 by the AMRIA. All applicable Viatris manufacturing locations with antibiotic production have been assessed adhere to the AMRIA Antibiotic Manufacturing Standard, including meeting the PNEC (RQ<1) as calculated by mass balance. In our external supply chain, we are working on a phased approach to assess suppliers' management and performance on the AMRIA Antibiotic Manufacturing Standard. Suppliers that do not fully adhere to the AMRIA Antibiotic Manufacturing Standard develop and implement corrective actions. Viatris monitors these suppliers within established mitigation plans. For the work in the external supply chain, Viatris carried out 15 supplier risk assessments in 2022.
The Antibiotic Manufacturing Standard, facilitated by BSI Standards Limited (BSI), provides clear guidance to manufacturers in the global antibiotic supply chain to ensure that their antibiotics are made responsibly, helping to minimize the risk of AMR in the environment. The Standard marks the formalization of the Alliance's 2018 Common Antibiotic Manufacturing Framework, which described a risk-based approach to assessing and controlling antibiotic manufacturing waste streams.
How is corporate environmental and social responsibility governed at Viatris?
Viatris' Board of Directors oversees management's efforts with respect to corporate environmental and social responsibility matters through its Risk Oversight Committee. The CSR function operates as a center of excellence within the Corporate Affairs leadership team. The Head of Corporate Affairs reports directly to the CEO and communicates quarterly with the Viatris Board through the Risk Oversight Committee together with the Head of Corporate Social Responsibility. The Head of Corporate Social Responsibility drives the strategic and operational development of CSR across the company together with key partners.
A multifunctional CSR Advisory Committee comprised of global leaders with a monthly meeting cadence monitors the external landscape, company progress and supports the integration of corporate environmental and social responsibility activities across the organization. Progress on strategic focus areas and execution of relevant tasks rely on a broad and engaged network of functional leaders across the company.
Does Viatris participate in clinical trials?
Clinical operations, including clinical trials, are key to advancing access to medicine for patients across the world. We are committed to conducting clinical trials in an ethical way and to promoting patient safety and the protection of patient rights throughout the study's lifecycle. Our global program for clinical research and applicable standard operating procedures are designed to adhere to international best practice and good clinical practice (GCP) as defined in the Declaration of Helsinki and the International Council for Harmonisation of Technical Requirements for Pharmaceuticals for Human Use (ICH) framework.
Diversity in Clinical Trials
Viatris supports efforts focused on diversity in clinical trials and works to include diverse patient populations for global studies that will be submitted for approval to health authorities around the world. Considerations for diversity include both demographic criteria (e.g., gender, race and ethnicity) as well as non-demographic criteria (e.g., co-morbidities, organ dysfunction, the extremes of weight ranges). Viatris is committed to working with health authorities to enhance safety, scientific rigor and diversity in our clinical trials. Health authorities across the globe have called for increased pediatric research to support accurate labelling for pediatric populations. Viatris committed to comply with applicable GCP requirements to ensure that pediatric clinical trial requirements are implemented with a focus on patient safety and integrity.
In 2022, we continued research activities across diverse regions in which patients may experience various health care and/or economic challenges. Our research encompassed varied therapeutic areas, including mental health disorders, dermatologic conditions, ocular maladies and reproductive health, among others. Viatris has increased its focus on ophthalmology therapies, and several associated studies are planned for 2023 as this therapeutic area expands at Viatris.
Global Standards
Regardless of where the trials are conducted and whether they are performed in-house or by a qualified third party, adherence to Good Clinical Practice (GCP) applies, promoting adherence to applicable policies, procedures and regulatory requirements.
More comprehensive description of responsible clinical operations at Viatris is presented in the
2022 Sustainability Report
.
Informed Consent
The company's standard operating procedure governing the informed consent process is part of the QMS. It includes detailed procedures regarding the development, review, approval, implementation and confirmation of the informed consent process for adult and pediatric trials.
Does Viatris conduct animal testing?
We do not conduct animal testing unless it is required by national regulations. We are committed to the "3R" approach (Replacement, Reduction and Refinement) with respect to ethical animal testing. Facilities performing animal testing on our behalf are required to comply with regional scientific procedures for laboratory animal science. These facilities use and/or are approved by the Association for Assessment and Accreditation of Laboratory Animal Care (AAALAC). Our Global Operations Audit (GOA) team performs regular audits on entities and facilities involved in animal testing to ensure compliance. In 2022, GOA audited 12 AAALAC-certified facilities.
Does Viatris have an access strategy?
Our Access and Health Goals
Goal: Provide ARV therapy equivalent to a total of 30 million patients, including more than 2 million children living with HIV/AIDS, between 2022 and the end of 2025.
Our Progress: In 2022, we made progress toward our goal by providing treatments for approximately 8 million patients, including almost 600,000 children living with HIV/AIDS.
Goal: Impact 100 million patients via HCP education and outreach regarding prevention, diagnosis and treatment options for cardiovascular disease, diabetes, cancer and other important chronic conditions to improve outcomes through the NCD Academy by the end of 2025.
Our Progress: More than 19,000 individuals have an NCD Academy account, representing approximately 48.6 million patients impacted2.
2Patient reach calculated by multiplying the number of HCP learners by the average number of patients treated, as self-reported by HCP learners upon registering for NCD Academy. Patient reach includes unique patients as well as repeat patient encounters. As of January 2023.
Our business and operating model is deliberately designed and implemented to deliver on our strategy to build and sustain access to medicine at scale. Underpinned by Viatris' relevance and success in meeting evolving healthcare needs, we seek to create value for and together with our key stakeholders – the people who trust our medicines every day, the health systems who rely on us, the people who make up Viatris, our partners and the investors who believe in our ability to execute on our ambitious mission.
We are convinced that patients and systems around the world are best served by a healthcare company applying a well-rounded and long-term approach, maintaining viability while working to manage inherent risks and opportunities and continuously striving to advance sustainable operations and responsible practices in a focused way.
Access to medicine begins with sustainably delivering high-quality medicines and health solutions at scale to people, regardless of geography or circumstance. Viatris was formed to bridge the traditional divide between generics and brands, combining the best of both, to address healthcare needs more holistically globally. With an extensive portfolio of medicines to meet nearly every health need, a one-of-a-kind global supply chain designed to reach more people with health solutions when and where they need them, and the scientific expertise to address some of the world's most enduring health challenges, access is central to everything we do.
We are focused on meeting individual needs, whether with a generic medicine, an improved version of an existing medicine, or a truly novel therapeutic solution. We go beyond developing, making and distributing high-quality medicines and work to help find solutions that support resilient systems for healthcare. We have designed our global operations and supply chain to be a reliable and flexible partner for access across the world, constantly adapting to an ever-evolving landscape.
Partnerships and collaborations are critical, as are policies and strong healthcare systems that allow for healthy competitive environments. The needs are universal, and we work with an array of organizations - globally, regionally, locally, public and private - to support sustainable access to medicines at consistent quality standards. Through our GLOBAL HEALTHCARE GATEWAY® we connect more people with even more products and services to advance access and health. Ultimately, we know we are stronger together, working collaboratively and relentlessly across our company and with the broader global community, in pursuit of access.
For more comprehensive description, see our 2022 Sustainability report.
Our Portfolio and Reach in 2022:
Served ~1 billion patients globally11
Sold > 80 billion doses of medicine across > 165 countries and territories
Reached ~ 90% of low- and lower-middle income countries
Had >250 products on the WHO EML and 62 products on the WHO PreQ List
Provided products that treat the top 10 of the WHO's leading causes of death globally
Locally available medicines addressed at least half of the top ten local causes of death, across all country income bands, in >100 countries
1 The number of patients served is an estimate calculated using internal sales data (global volume of doses sold in 2022 in all markets as aligned with IQVIA standard units), divided by estimated per patient usage, which is based on treatment dose, treatment duration, and treatment adherence as estimated by Viatris Medical Affairs based on approved label indication and instructions for use, current international guideline recommendations, and common usage in clinical practice. Patients using multiple Viatris medicines may be counted as multiple patients. Certain adjustments were applied in consideration of announced divestitures and to account for acceptable alternatives to the patient usage factors noted above, and rounded to the nearest hundred million. Estimates may be subject to
How does Viatris consider price as part of its commitment to access?
At Viatris, we provide an exceptionally broad and diverse portfolio for patients across a broad range of major therapeutic areas, spanning both noncommunicable and infectious diseases. Our global portfolio includes best-in-class, iconic brand-name products as well as global key brands and generics, including branded and complex generics. Many of the medicines in our portfolio are not protected by patents and therefore are subject to a general trend of price deflation over time.
As we participate in tender programs or public private partnerships around the globe, we evaluate the price of the generics within our portfolio based on an assessment of patients' need, supply, demand, the cost of manufacturing and the affordability of our products, especially as it relates to the equivalent brand name drug, among other determinants. Other factors considered when pricing our branded portfolio include their value to patients and providers as well as current economic indicators.
Working to ensure that patients across all income levels have access to the medicines we offer means we must carefully evaluate the socioeconomic conditions within each market where Viatris does business while simultaneously sustaining our ability to consistently provide patients with a reliable supply of the quality products they need. We work to provide holistic solutions for governments, NGOs and health systems globally, as we partner to connect more people to products and services.
How is Viatris focusing on Diversity, Equity and Inclusion?
We know that empowering people worldwide to live healthier at every stage of life means understanding and embracing what makes individuals unique. The diversity we foster within Viatris can be one of our greatest strengths in achieving breakthroughs for patients worldwide.
The Chief Human Relations Officer oversees DEI and reports to the CEO. The function provides regular updates to the Viatris Board of Directors. While our colleagues represent a multitude of geographies, experiences and cultures, we recognize we are early in our DEI journey.
We launched our initial DEI goals in 2022, they are:
Engage at least 90% of employees globally on diversity, equity and inclusion learning by the end of 2023.
Increase diversity in management:

Increase women's representation in senior management globally to at least 35% by the end of 2027.
At least double Black representation in all management levels in the U.S. by the end of 2027.
At least double Hispanic/Latinx representation in senior management in the U.S. by the end of 2027.
In 2022, we focused on identifying initial actions, building our strategy and setting in place the essential building blocks to build foundations in DEI at Viatris. As part of our 2022 baseline assessment, we built a roadmap to define our journey, maturity, vision, focus and actions. Viatris Board of Directors have adopted a Board's Policy on Diversity and Inclusion.
Learn more about our work in the 2022 Sustainability report and on the DEI section of our website.
How does Viatris work to promote product quality?
Protecting patients and consumer health by ensuring the quality and safety of our products is at the heart of how we operate across our network. Every step of our development, manufacturing and monitoring processes – from developing products to sourcing of raw materials to producing and distributing finished dosage forms – is grounded in this commitment.
We maintain a robust quality infrastructure and strategy, encompassing all our operations and manufacturing sites globally. This infrastructure is comprised of the extensive experience and expertise of our personnel, our comprehensive Global Quality Policies that establish uniform requirements for fundamental processes and controls within our Global Quality Management System (QMS), as well as Global Quality IT systems, which are implemented and designed to establish industry best practices, consistency and global quality assurance throughout our network.
We continuously evolve our quality organization to ensure alignment with our business operations and to enhance compliance with applicable standards. Existing global quality resources are embedded within operational verticals to align closely with business units and drive consistency across sites.
And in addition to continuously monitoring and evolving our approach to quality, colleagues around the world are provided training on quality culture to ensure personnel have a clear understanding of our commitment to quality.
Procedural and cGMP training is required for all personnel whose duties are in any way associated with the manufacturing, packaging, processing, holding or testing of products or whose duties require them to enter manufacturing areas or laboratories, as well as any other personnel whose activities could affect the quality of the product. Personnel working in areas where contamination is a hazard, such as clean areas, sterile areas or areas where highly active, toxic, infectious or sensitizing materials are handled, are given additional specific training. Training in cGMP is conducted by qualified individuals to ensure that employees remain familiar with the specific cGMP requirements applicable to them.
Quality Risk Assessment
Proactive risk assessment is central to our approach to ensuring quality. We apply the principles outlined in the International Conference of Harmonization (ICH) Q9 Quality Risk Management as well as those in ICH Q10 Pharmaceutical Quality System.
For the latter part of 2022 and into 2023 as on-site visits became more accessible, Viatris has evolved the Global Operations Audit program for both internal and external audits to a hybrid model that incorporates both onsite and virtual audits.
In total, 777 GMP, 69 GCP and 13 pharmacovigilance (PV) audits were conducted by Viatris' Global Operations Audit team at our internal facilities and external suppliers, contractors and service providers.
Ensuring a High-Quality Supply Chain
To help ensure the integrity of our supply chain, a highly experienced Viatris cross-departmental committee including Sourcing and Quality undertakes a rigorous review of suppliers and third parties prior to their selection for the supply of active pharmaceutical ingredients and drug products.
Working with Health Authorities
We constantly review our products, processes and facilities throughout our network and work closely with external health authorities to ensure transparency regarding emerging information, including shortages, the development of new scientific and testing criteria and evolving regulatory and manufacturing expectations everywhere we operate. We continuously learn from these interactions as scientific, technological and regulatory expectations continue to evolve. In 2022, approximately 120 health authority inspections were conducted across our facilities.